CLIL Plus – CLIL for Visual Art Teachers
Locations: Bray and Dublin
High School Curriculum Basis
30 Certified Hours Per Week
Practical Ideas & Activities
The CLIL Plus course – CLIL for Visual Art Teachers – offers secondary level CLIL Art teachers the opportunity to come together with other teachers of their subject, to look at ideas and activities for developing CLIL art projects.
The course uses English-language materials from the Irish Post Primary Curriculum in Visual Art (Junior Cycle [12 to 15 years old]. This course will focus on the language demands of Visual Art, across the three integrated strands of the curriculum – Art, Craft and Design.
We will look at the specific key terms of the subject along with the cross-curricular, general academic language required by learners to engage with curriculum materials, develop their knowledge, skills and competences, and demonstrate their learning, through English.
The course supports art teachers to work with their students through English, to develop projects in drawing, two-dimensional, and three-dimensional art, craft and design.
The aim of this course is to help Art teachers to:
identify and analyse the language demands of their curriculum,
adapt target language materials for use with students,
design CLIL art activities to support students in their CLIL learning,
plan and deliver CLIL art lessons with confidence.
For more course choices please see the link – ATC Teacher Training & Development.
Minimum English Level: B1
Applicable for Erasmus+ KA1
Course Dates 2022
Summer 2022 dates to be confirmed
*Courses can also be organised year-round for closed groups in our Dublin City Centre or Bray school.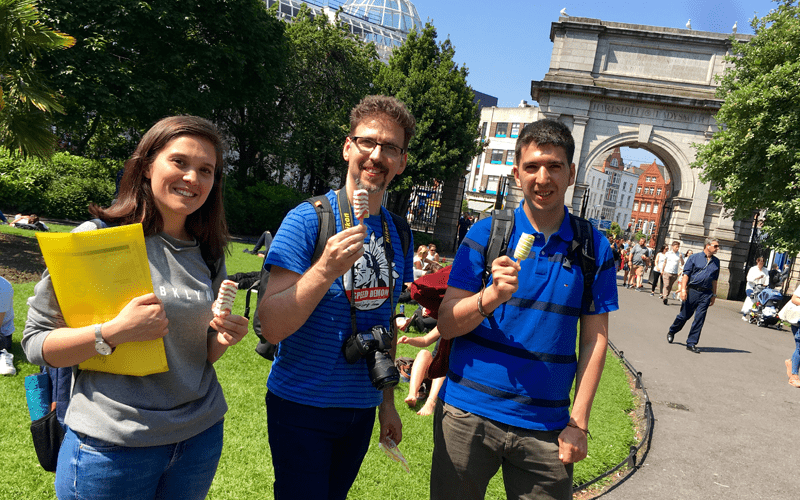 20 hours tuition + 10 hours project work per week
Course materials included
End-of-course certificate
Interactive discussions with other teachers
This CLIL for Visual Art Teachers course is suitable for secondary level art teachers who are required to teach the subject through English, either partially or fully.
Applicants must have minimum level of B1 level of English, as outlined in the Common European Framework of Reference for Languages. If you would like to confirm your level, please contact us.
For teachers applying through the Erasmus Plus scheme the OID for ATC Language Schools is E10133233.
Our teachers' and students' feedback about the course was enthusiastic and we owe this great result to the high professionalism of the teacher trainers from ATC and the perfect organisation of the course.
ATC is the best option to study English in Ireland because the teachers are highly qualified, the team is professional and friendly. In ATC, we made some very good friends, not only the students but also the team who helped us all the time to enjoy this experience.
The course introduces teachers to the Junior Cycle of the Irish Secondary Curriculum for Visual Art.
It explores the three strands of the core curriculum:
Drawing
Two-dimensional art, craft and design (painting, print-making, photography, graphic design and display)
Three-dimensional art, craft and design (additive, subtractive, and constructional processes)
Teachers will look at the syllabus aims and assessment objectives for Visual Art. They will focus on the language demands of the subject, looking at key terminology from the Visual Art curriculum, along with the general academic language required to support learners in their evaluation, critical appraisal and appreciation of art.
The course will look at ways teachers can support their students through a selection of art projects, using English as the language of instruction.
READ MORE ABOUT CLIL PLUS FOR ART TEACHERSREAD LESS
Teachers will choose an art project to plan and develop through English (from process to realisation), based on the aims and objectives of the art syllabus. Teachers will be supported in this to ensure a good integration of content and language in the project design and delivery. We will also present teachers with support strategies for helping students to speak and write about their work, and the work of others, effectively through English.
On the course teachers will also consider the question of assessment in CLIL, and look at ways of developing CLIL-based continuous or formative assessment.
Course Modules:
Exploring the Irish Secondary Curriculum for Visual Art (Junior Cycle)
The Core Concepts of CLIL – from Theory to Practice in the Visual Art Classroom
Language in CLIL for Visual Art
Assessment in CLIL for Visual Art
CLIL Visual Art Project Development
Teaching Style
The CLIL for Visual Art Teachers course combines course input from ATC's CLIL trainers with group discussion and collaborative work. Teachers are encouraged to share ideas and experiences, and are given the opportunity to collaborate on tasks in order to create their own resources and put the theory into practice. Teachers should finish the course with a portfolio of materials that can be used in their teaching context.
Certificated hours
At the end of the course, teachers will receive an ATC Language Schools' Certificate of Attendance for the 60 hour CLIL for Visual Art Teachers programme.
For teachers applying through the Erasmus Plus scheme the OID for ATC Language Schools is E10133233.
YOUR ENGLISH COURSE WITH atc...
We Have The Right Course for You!
Choose your course with ATC, select from our adult courses, junior courses or teacher training and development…