Cambridge Exam Preparation –
B2 First
Locations: Bray and Dublin
Students can study and prepare for the Cambridge B2 First Exam with ATC Language Schools. The Cambridge English Qualifications are recognised worldwide by governments, employers, universities and colleges. The exam focuses on the 4 key skills of English, reading, writing, listening and speaking.
ATC's Cambridge exam preparation course for the B2 First exam is 9 or 12 weeks long. The timetable includes 20 hours of lessons per week. The full course will develop the skills students will use during the exam, enhance the students' comprehension and fluency of using English language and allow them to practice the exam techniques required.
Each Cambridge B2 First exam preparation course is planned to align with an exam offered locally, ATC can arrange the exam additionally to the course.
Read on for more information about the course, timetable and pricing.
Maximum class size: 15
Average class size – 8-12
Minimum Age:
ATC Bray     – 16*
ATC Dublin – 17*
Start Dates:
2023 –
September 18th – 12 weeks
2024
January 8th – 10 weeks
March 19th – 12 weeks
September 23rd – 12 weeks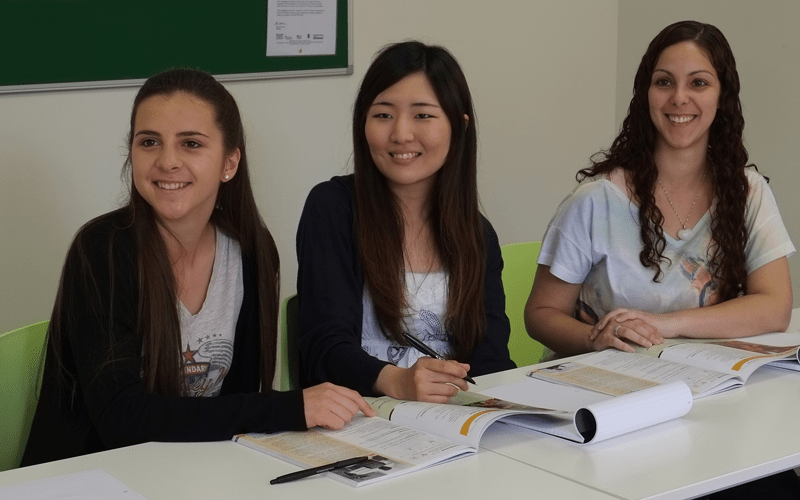 Regular practice tests using past papers
Additional material with ATC's e-learning platform
Optional free afternoon classes and tutorials
Students of all ages can prepare for the Cambridge B2 First exam with ATC, it can be used to confirm your level of English abroad or at home. The Cambridge B2 First Certificate is recognised internationally by employers, governments, universities and more.
Students should have a B1+ level of English to begin the Cambridge B2 First exam preparation course, please contact us if you would like to take a placement test to check your English level.
*Please note that from September to May inclusive there is a maximum of 4 weeks stay for students aged 16 and 17 years old.
The teachers were very good, they fun and integrated me into the class. The lessons were interesting and I could actively participate.
I would recommend the school to anyone willing to improve their level if English. I had the opportunity to meet incredible people from across the globe and the teachers and staff are really helpful when you need it.
B2 First – Exam preparation 
Students that choose ATC's Cambridge B2 First Exam Preparation course will develop their overall level of confidence and fluency in the key skills covered in the exam. The main English language skills assessed in the Cambridge B2 First exam are Reading, Writing, Speaking and Listening. Students will also expand their vocabulary and grammar skills through the course.
The course is designed alongside a structured exam preparation course book and also uses additional material including previous exam papers. Students will practice each skill and topic with real Cambridge B2 First exam test papers to ensure that by the time they sit the exam, they are confident in their abilities and familiar with the exam format. Using exam papers allows students to put the theory into practice and use the skills they have been developing in an exam context.
READ MORE ABOUT ATC'S B2 FIRST PREPARATION COURSEREAD LESS
 In a typical week, students taking the Cambridge B2 First course can expect to be assigned tasks to complete as homework, these tasks usually support the intended learning outcomes of the week through exam-style writing practice, vocabulary expansion and development of reading skills. As well as homework assignments, students are assessed by the class teacher through exam focused assessment with each week specifically focusing on a key skill area.
Teachers at ATC Language Schools use the communicative approach, taking a learner-centred approach with a strong emphasis on communicative tasks aimed at developing the necessary skills to succeed in the Cambridge B2 First exam. Students use meaningful and authentic language to promote learning in a motivating and engaging setting. Students work on a variety of interactive and collaborative pair and group activities to meet daily learning outcomes focused on developing their exam skills.
Prior to taking their final exam, students will sit a mock exam during the final week of the course. This mock exam is carried out in exam-like conditions and includes a recorded speaking exam. ATC's experienced exam team provides detailed feedback to the students on all aspects of their mock exam as well as detailed feedback on their speaking test.
In addition to the Cambridge B2 First exam preparation course syllabus. ATC recommends students allow for 1-2 hours each day of self-study; this can be done through tasks set by the teacher, revising points covered from the course already, or using the Cambridge B2 First exam practice from ATC's e-learning platform.
YOUR ENGLISH COURSE WITH atc...
We Have The Right Course for You!
Choose your course with ATC, select from our adult courses, junior courses or teacher training and development…