Residential Campus Accommodation
Dates: 29th June to 30th July 2024
ATC Language Schools are delighted to offer a junior summer residential programme on a campus of one of Ireland's most historical universities.
Trinity Hall campus is located in the affluent suburbs of Dublin 6, just 10 minutes by tram to the city centre, and is ideal to offer the perfect adventure for junior students to experience the Dublin lifestyle as a language student this summer.
With ATC's junior summer programme at Trinity Hall, students will enjoy an exciting international learning and social environment on a compact university campus, making memories and friends that will stay with them forever.
Accommodation Type:
Residential Accommodation
Dates:
29th June to 30th July 2024
Single & twin en-suite accommodation
15 hours' minimum tuition per week, course materials included
Innovative half-day activities focusing on personal development
ATC Staff and Managers on campus 24/7
ATC's summer residential programme at Trinity Hall is ideal for students aged 13-17 who would like to meet other international students and experience Dublin and Ireland.
Students can join the summer programme at Trinity Hall whether they are travelling individually or as a group with a supervising adult.
Thank you so much for your help and support in every situation, for being so incredibly friendly and providing an atmosphere that felt secure and reliable with every arrangement we made. We would happily recommend ATC and your great city to our colleagues. and look forward to visiting again next year.
It's absolutely an amazing experience that I'll never forget and i recommend to everybody, not just for the language, cause obviously you'll learn a new language well, but also for try new things and experience that probably you never thought to try about.
Individual students and groups will be met at the airport by one of ATC's experienced representatives and travel by private transport to the university campus. They will then 'check in' and be meet the ATC staff who will be available throughout their stay.
Accommodation is in single en-suite rooms; all rooms are in apartments with a living area shared with other students. Each student will have their own key card to access their building, apartment and room. Students will stay on a full-board meal basis, with breakfast, lunch and dinner in the dedicated ATC restaurant on campus Monday for Friday, students will have a packed lunch at weekends when on full day trips.
On their first day of classes, students will have a test to determine their level of English, they will then join the right class for their level and age. There are 2 lessons per day, in the morning or afternoon, a total of 3 hours 20 minutes each day.
READ MORE ABOUT ATC'S PROGRAMME AT TRINITY HALLREAD LESS
 Lessons are delivered using the communicative approach, this provides an interactive and engaging learning experience for all students. Lessons have been developed using the Common European Framework of Reference for Languages, CEFR. Levels from A1 (Elementary) to C1 (Advanced) are offered. Lessons are task based, ensure student centred learning and are focused around topics that teenagers can really identify with.
The course is designed to develop students' English language skills by integrating the key areas of reading, writing, speaking and listening. Lessons are designed specifically for different age groups and levels of English. Teachers design lessons based on the interests of the students and each lesson will have a particular focus on communication skills. Students have regular assessments in order for teachers to monitor progress and ensure students are suitably challenged and they are progressing during their stay.
Teachers
All students will receive an end of course certificate and report at the end of their stay. ATC's teachers are all degree qualified, hold an international English teaching certificate and some have been teaching with ATC or in the Irish State sector for a number of years.
 ATC Projects –
As part of the social programme ATC have designed activities to develop students' personal skills for the 21st century, half day activities on campus include Film Making and Photography.
Students will also take part in a personal development session each week depending on their age; older students will join the 'Next Generation Career Guidance' workshop, focusing on topics such as the impact of Covid-19 on workplace automation and flexibility, the opportunities created by Artificial Intelligence, the Internet of Things, the Green Economy alongside Cybersecurity and other emerging sectors.
 Evening Activities
A full and varied evening programme with a choice of exciting activities is provided on campus for all students 7 nights a week including activities such as karaoke, Irish night, quiz night, fashion shows and more.
The welfare of our students is of paramount importance to us and we offer a high standard of care and supervision to all our students. We provide nominated ATC staff members to act as guardians to our individual students that travel without Group Leaders.
By choosing summer with ATC, students will be sure to develop their English skills and personal skills in a fun environment, meet new international friends, and create lifelong memories.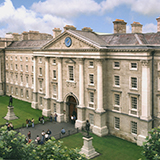 Junior Summer Course 2024 - Trinity Hall (pdf)
YOUR ENGLISH COURSE WITH atc...
We Have The Right Course for You!
Choose your course with ATC, select from our adult courses, junior courses or teacher training and development…