High School & Middle School Programmes
Focus on 21st Century Skills
Live Online Classes & Workshops
ATC Language Schools are pleased to offer an online range of programmes for high school and middle school groups with a variety of topics to choose from.
ATC Connect has already been successfully provided to hundreds of students through 2021; it is delivered fully online with students joining webinars, workshops and intensive, interactive lessons from where they are in the world.
School groups can choose a package tailored to suit their own curriculum and school timetable; each topic can be offered over half a day, through shorter daily lessons or by 10 weekly sessions to allow the students to develop their project work in their own time.
Add a virtual excursion!
The bespoke programme can be ideally concluded with a virtual tour of one of Ireland cultural attractions with location specific background and supplementary information.
Complete flexibility in the timetable
Dedicated programmes manager
Selection of innovative programmes
Interactive, collaborative and communicative learning
Focus on 21st Century skills and Digital Literacy
The workshop was divided into two parts: firstly, we did a vocabulary activity to introduce the topic, very helpful to discuss between us. We discovered fascinating words such as algorithm, cybersecurity and political polarisation. We then focused on the differences between digital native and digital citizens, and we found out interesting facts related to social media, which we often underestimate.
We were divided into smaller groups in breakout rooms and we were able to share our interests and our outlook for the future.
While discussing, we found out our ambitions, interests, and what we want to pursue after high-school. This experience was fascinating and useful as it helped us to better understand ourselves and what we want to do in the future. We definitely recommend this workshop!
When a school group chooses ATC Connect, it is a programme they will be able to integrate into their school day and academic course.
We will meet online with the team at the school in advance to determine the best topic or selection of modules for their length of course and student requirements.
The suite of unique and innovative material covers specific topics such as English and Journalism, Digital Citizenship, Marketing and Self-Branding and a Business Apprenticeship Programme. The courses give students the opportunity to develop soft skills such as critical thinking, communication and interacting online, as well as hard skills such as creating and delivering online presentations.
All lessons will take place securely online. Students will take an online placement test prior to commencing their course to ensure lessons are planned using the most level appropriate material. Lesson content will be decided in advance in discussion with ATC's academic team; the groups can choose General English or an alternative option including exam preparation, Business Apprenticeship, Irish culture & literature, or a subject through CLIL such as tourism, sustainability, the green economy, digital citizenship and more. Additional online pre-arrival and post-departure sessions can be arranged by request.
READ MORE ABOUT ATC CONNECTREAD LESS
ATC's syllabus is designed around the CEFR (Common European Framework of Reference for Languages) and aims to develop the students' communicative abilities in English and broaden their understanding of Irish culture.
The teachers use a communicative approach, with a learner-centred focus and a strong emphasis on communicative tasks.  Students will use meaningful and authentic language to promote learning in a motivating and engaging setting.  Students work on a variety of interactive and collaborative pair and group activities in online breakout rooms to meet daily learning outcomes.
In our Task Based Learning lessons, students will use the target language to communicate with their classmates and carry out a task to achieve a specific outcome. Students develop their language skills through their usage of English where the emphasis is on achieving a goal while building confidence and increasing motivation as they work collaboratively with their peers.
All teachers with ATC Language Schools are degree qualified and all hold an internationally accredited English language teaching certificate.
Choose virtual tours of some of Ireland's iconic attractions!
Immerse yourself in some of Ireland's top tourist museums and galleries with our teacher-guided virtual tours. Teachers will navigate the tour revealing interesting facts, photos, videos and audio descriptions.  Students will be provided with a worksheet and will be asked by their teacher to complete mini tasks as they navigate the tour.  These virtual tours allow students to explore museums and exhibitions while getting as close to a real-life tour as possible.
All students will be presented with an e-certificate detailing their course and number of certified hours.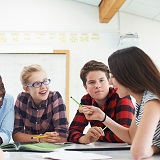 ATC Connect - High School & Middle School Programmes Online (pdf)
YOUR ENGLISH COURSE WITH atc...
We Have The Right Course for You!
Choose your course with ATC, select from our adult courses, junior courses or teacher training and development…